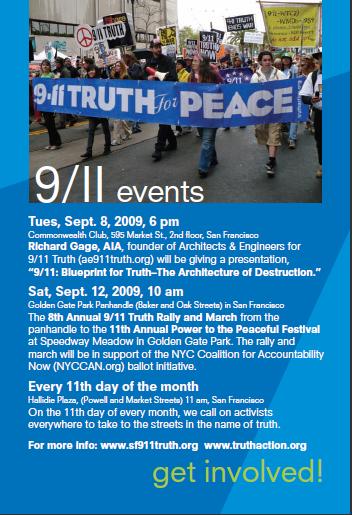 Rally at 10 a.m. at the Panhandle (between Oak and Fell @ Ashbury)
Parade at 11 a.m. up Ashbury down Haight St., through Golden Gate Park to the
11th Annual Power to the Peaceful Festival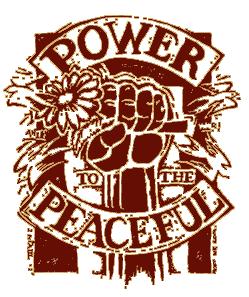 Vic Sadot and Jeremy Goodfeather will play and sing at the Rally.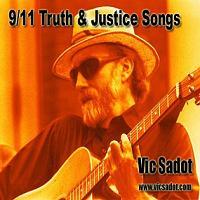 This year we particularly want to draw the public's attention to the
NYCCAN
's effort to get an initiative on the ballot for a new, independent investigation of 9/11. A bit of background on this annual march, the first one was organized by the All People's Coalition in September 2002, before the
Northern California 9/11 Truth Alliance
came into being. Since 2004, in addition to the Truth Rally and March, Northern California 9/11 Truth Alliance has also organized many 9/11 Film Festivals at the Grand Lake Theater (and one at the War Memorial Building in San Francisco). This is the first year that the
Power to the Peaceful Festival
will take place after the
9/11 Film Festival
which will be held this year on September 9th and 10th, 2009.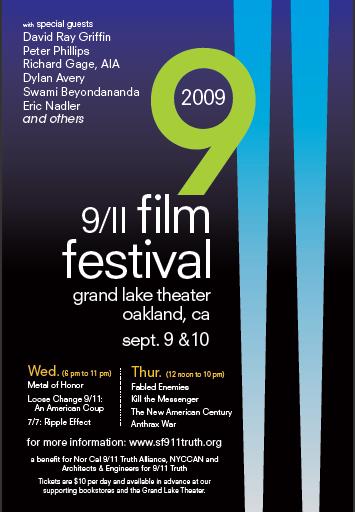 In the past, we have sought the impeachment of the administration, and to prevent wars, stop wars, stop the attacks upon our civil rights. We still believe that the 9/11 myth is fundamental to the endless wars and attacks upon the civil rights of people within the US and throughout the world. All those who seek truth, and support peace, justice, human rights, and wish to end tyranny, oppression, torture, economic, biological, psychological warfare are invited, and welcome to join us and champion your issues, as well. Bring your banners, signs, musical instruments, voices, creativity, energy, kids!
If your organization would like to join us or suggest a speaker, musician- please contact Carol, 650-857-0927 or email- cbrouillet(at)igc.org. (I must admit that we started organizing the Film Festival late this year and it has taken most of my time and attention.) David and Christine, who organize SF 9/11 Truth Actions on a regular basis, are also working on bringing people to the rally and march (See- the local meet-up group at www.meetup.com, but they are also working on the Freeway blogging on the 11th, the monthly 9/11 Truth Action, and the Richard Gage, AIA, talk at the Commonwealth Club on the 8th. There are five days of action, in a row, this year. We hope to inspire those who come to the Film Festival to join us on the streets, at the rally/march/ to do outreach to the 70,000 people at the Power to the Peaceful Festival. I am sure we will have plenty of speakers by Saturday, the 12th of September, even if I can't list them now.
Here is the list of local actions and events for the week of September 11th, 2009 (For details on what is happening in NY [ See- We Demand Transparency Conference] or elsewhere- see 911Truth.org's Calendar of Events) -
9/11: Blueprint for Truth – The Architecture of Destruction with Richard Gage, AIA

Tue, Sep 8, 2009
Commonwealth Club
595 Market St., #2, San Francisco

Richard Gage, AIA, is the founding member of www.AE911Truth.org He has been a practicing architect for over 20 years and has worked on most types of building construction including numerous fire-proofed steel-framed buildings and construction administration services for a new $120 million high school campus including a $10 million steel-framed gymnasium. Most recently he worked on construction documents of a very large $400 M urban project with 1.2 million square feet of retail and 320,000 square feet of mid-rise office space — altogether about 1,200 tons of steel framing. He has been honing his presentation in venues across the US, Canada and Europe.

5th Annual 9/11 Film Festival

Wednesday, September 9, 2009, 6:15 pm- 11 pm
Grand Lake Theater
3200 Grand Ave., Oakland

(We will be premiering Loose Change 9/11: An American Coup with film maker Dylan Avery, MC'ed by Bonnie Faulkner, producer of KPFA's Guns and Butter radio show. This will be a benefit for Northern California 9/11 Truth Alliance, Architects and Engineers for 9/11 Truth, and NYC Coalition for Accountability Now.)

Schedule:

Wednesday Evening, 9.9.09

6:15- - Welcome Bonnie Faulkner

6:20- 7:00- - Film: Metal of Honor by Rachel Maguire (27 minute excerpt) Introduction and follow-up by Mike Daly.

7:00- 7:01- - Richard Gage intro to Trailer to Blueprint for 9/11 Truth by Ken Jenkins for Architects and Engineers for 9/11 Truth

7:01- 7:11- - Trailer to Blueprint for 9/11 Truth (10 minutes) by Ken Jenkins for Architects and Engineers for 9/11 Truth

7:11- 7:20- - Richard Gage AE911Truth: Challenges & Updates (10 minutes)

7:20- 7:30- - David Ray Griffin on Osama bin Laden- Dead or Alive? (10 minutes)

7:30- 7:42- - Bonnie Faulkner, NYCCAN update with Janette MacKinlay

7:42- 7:45- - Dylan Avery introduces his new film

7:45- 9:20- - Loose Change 9/11: An American Coup by Dylan Avery (95 minutes)

9:20- 9:50- - Q & A with Dylan Avery or Korey Rowe (30 minutes)

9:50- 10:49- - Film: 7/7: Ripple Effect by Muad Dib ("British Loose Change"- DVD maker in jail for sending it to jury/judge/victim's families) (57 minutes)

10:49- 10:59- - Speaker- Gabriel Day (10 minutes)

The 2009 5th Annual 9/11 Film Festival will be held at the Grand Lake Theater
3200 Grand Avenue, Oakland

Tickets are $10 for each day are now available. They may be purchased at locations in the Bay Area:

In Oakland:
Grand Lake Theater, 3200 Grand Avenue, Oakland, Tel. (510) 452-3556

Pendragon Books, 5560 College Avenue, Oakland, Tel.(510) 652-6259

In Berkeley:
Pegasus Books, 1855 Solano Avenue, Berkeley, Tel. (510) 525-6888

Pegasus Books Downtown, 2349 Shattuck Avenue, Berkeley, Tel. (510) 649-1320

In San Francisco:
City Lights Bookstore, 261 Columbus Avenue at Broadway, San Francisco, Tel. (415) 362-8193

Modern Times Bookstore, 888 Valencia Street, San Francisco, Tel. (415) 282-9246

Details on Films, Speakers, Supporting Organizations posted at- communitycurrency.org/filmfestival2009.html

5th Annual 9/11 Film Festival

Thursday, September 10, 2009, noon- 10 pm
Grand Lake Theater
3200 Grand Ave., Oakland

(We will be premiering Anthrax War with film maker/author Eric Nadler and The New American Century plus other films, speakers, comedy (including the great Swami Beyondananda and music. MC'ed by Bonnie Faulkner, producer of KPFA's Guns and Butter radio show, our evening keynote speaker will be David Ray Griffin speaking about his latest book on the NIST Report on WTC 7.)

Schedule:

Thursday, 9.10.09 Noon-

Welcome Intro- Noon-

12:10- 1:54- - Film: Fabled Enemies by Jason Bermas (102 minutes)

1:54- 2:04- - Speaker- Ken Jenkins (10 minutes)

2:05- 2:59- - Film- Kill the Messenger by French filmmakers- Mathieu Verboud and Jean R. Viallett (52 minutes)

2:59- 3:09- - Speaker- Mickey Huff (10 minutes)

3:09- 4:45- - Film- The New American Century by Italian filmmaker- Massimo Mazzucco (94 minutes)

4:45- 4:55- - Speaker Dr. Paul Rea (10 minutes)

4:55- 5:06- - Short Film - Star Wars and False Flag Terrorism (See- http://www.youtube.com/watch?v=U0fDUoudO7w) (10:13 minutes)

5:06- 5:30- - Swami Beyondananda (24 minutes)

5:30- 5:45- - Live music by Vic Sadot and Jeremy Goodfeather

Thursday Evening, 9.10.09-

5:45 - 5:50- - Evening welcome with Bonnie Faulkner, intro to the film Anthrax War - Dead Silence by Eric Nadler

5:50 – 7:18- - Film: Anthrax War by Bob Coen and Eric Nadler (86 minutes)

7:18- 7:40- - Speaker- Eric Nadler

7:40 - 8:00- - Speaker- Peter Phillips

8:00- 9:00- - Speaker- David Ray Griffin - on NIST's WTC7 Report

9:00- 9:30- - Q & A with David Ray Griffin

9:30- 9:40- - Actions- What we can do (action groups- how to get involved)

9:40- 10:00- - Inspiring 9/11 Truth music videos

The 2009 5th Annual 9/11 Film Festival will be held at the Grand Lake Theater
3200 Grand Avenue, Oakland

Tickets are $10 for each day are now available. They may be purchased at locations in the Bay Area:

In Oakland:
Grand Lake Theater, 3200 Grand Avenue, Oakland, Tel. (510) 452-3556

Pendragon Books, 5560 College Avenue, Oakland, Tel.(510) 652-6259

In Berkeley:
Pegasus Books, 1855 Solano Avenue, Berkeley, Tel. (510) 525-6888

Pegasus Books Downtown, 2349 Shattuck Avenue, Berkeley, Tel. (510) 649-1320

In San Francisco:
City Lights Bookstore, 261 Columbus Avenue at Broadway, San Francisco, Tel. (415) 362-8193

Modern Times Bookstore, 888 Valencia Street, San Francisco, Tel. (415) 282-9246

Details on Films, Speakers, Supporting Organizations posted at- communitycurrency.org/filmfestival2009.html

9/11 Anniversary Freeway Blogging

Friday, September 11, 2009, 7:00 a.m.
I-80 Overpass South of University in Berkeley
Addison St., Berkeley

To reach as many people as possible on the anniversary of 9/11, we will be holding a massive blogging campaign spanning over (at least) 3 consecutive overpasses on the I-80. More details to be announced. See- http://www.meetup.com/sftruthaction/calendar/10949980/ for details.

San Francisco 9/11 Truth Action

Friday, September 11, 2009, 11 am
Powell and Market Streets
Halliday Plaza, San Francisco

SACRAMENTO 9/11 TRUTH ACTION


FRIDAY, SEPTEMBER 11, 2009, 4:30PM to 6:00PM
11th and "L" Streets, Sacramento, CA
(public sidewalk just north of the State Capitol)

See: truthaction.org

Help raise consciousness, hand out fliers and The Rock Creek Free Press, and hold up a sign for 9/11 Truth.

Info: Dave (916)372-8433

Film Screening: Core of Corruption - In the Shadows "With Ken Jenkins - Hosted by Lori Grace"


Friday, September 11 at 7:00 pm - 10 pm Sunrise Center
645 Tamalpais Dr # A
Corte Madera
Tel. 415.924.7824

Were We Told the Truth About 9/11?

Watch the Trailer (YouTube) http://www.youtube.com/watch?v=9SbSqe9Me_c

Core of Corruption: In the Shadows is a documentary film series which details a comprehensive investigation into clandestine intelligence operations and conspiracies. The project is surfacing exclusive whistle blowers, insiders and critical evidence for the very first time.

Over 2,000 hours of credible network news clips have been surfaced for this ground breaking event, most of which have never been seen since they aired and have never been available on the internet. Some of the video news segments for this project, when requested from the networks, were denied access to and corporate representatives would say that the information sought does not exist or has been misplaced.

Someone doesn't want the public to see these stories, that when put together, establish a conspiracy of the magnitude that could change the way one views the world. Countless millions of people are being manipulated and lied to by a network of individuals within government that work on behalf of private interests. The individuals were involved in the terrorist attacks of September 11th. Many of those same figures are are connected to historical events that have shaped our understanding of government crime. For instance, the Iran Contra affair involved many figures that showed up in the 9/11 attacks.

For more information about the film, visit coreofcorruption.com

This evening is co-sponsored by Sunrise Center, Northern California 9/11 Truth Alliance and Marin Film Group for 9/11 Truth

For more information about this evening, visit www.sunrise-center.org/911film.html

Here are links to Reports on the past Rallies and Events-


Report on the 7th Annual 9/11 Truth Rally/March to the Power to the Peaceful Festival

(Additional photos of the September 6, 2008 Rally are posted at the Meetup website- 9-11.meetup.com)

Report on 2006 March/Rally/Film Festival


Report on 9-11 Truth for Peace and Justice
Rally/March September 10th, 2005

We rallied at 10 a.m. at the Panhandle
(between Oak and Fell) @ Ashbury
We paraded up Ashbury down Haight St., through Golden Gate Park to the
7th Annual 911 Power to the Peaceful Concert

September 10, 2005 "9-11 Truth for Peace and Justice March, San Francisco

This was the fourth annual 9-11 Truth Rally and March to the 7th Annual 911 Power to the Peaceful Concert featuring Michael Franti and Spearhead (which drew 50,000 people in 2004. This year I think there were less people- maybe 40,000, but then we were farther from the center so it was hard to judge. ).

Between forty and fifty people gathered at the Panhandle. We had several speakers, including Pat Gray, who was one of the few candidates last year to speak out on 9-11 and gathered a respectable number of votes opposing one of the worst war mongers in the state- Tom Lantos. 9-11 truth activist Frank Runninghorse and I spoke, as well as Dave Kimball, from Sacramento, who has been doing some great organizing out there. There were some great songs by Joel, who produces one of our local 9-11 television shows. We passed out lots of handbills and literature to pass out along the way. We had two large banners and lots of signs. One person brought a very fancy sound system, attached to his bicycle (next year- we'll have to supply him with our best 9-11 songs). We took over the streets during our march up Ashbury to Haight Street. (The police monitored us at some point, and tried to get our attention, but we more or less ignored them and they didn't seriously bother us or impede our march. Passerbys applauded us, honked for us and gave us the thumbs up sign. We were a lively, loud, vocal group and did lots of chants, the best new one that we came up with was:

9-11 was an inside job
Orchestrated by the Cheney mob

9-11 was a special op
Only justice gonna make them stop!

We had fun. There were some new faces, and lots of old time 9-11 activists, certainly there was a sense of community and cooperation. When we reached the Concert, we stopped to get the big Deception Dollar banner for the march to the stage, we wound our way through the crowd. We passed out thousands and thousands of handbills, newsletters to people over the course of the day.

Report on
9-11 Truth for Peace and Justice
Films, Discussions, Dialogue, Reflection


at the Veteran's War Memorial Building, 401 Van Ness Ave., San Francisco, September 11th, 2005

Report on the 9-11 Film Festival
The Benefit for the Northern California 9-11 Truth Alliance and Project Censored


at the Grand Lake Theater, 3200 Grand Avenue, Oakland

Our Co-Sponsors and Endorsers

Veterans for Peace (Chapter 69) - American Legion Post 315 - Guns and Butter - Ken Jenkins - Riva Enteen

Marin Peace and Justice Coalition

CommunityCurrency.org

Northern California 9-11 Truth Alliance - 911 Truth.org - ny911truth.org

911 Visibilty Project - Radio 960 AM - The Quake! - The Green Party of Alameda County

oilempire.us - digitalstyledesigns.com - Central Committee for Conscientious Objectors -

- John Bass (Director of the Northern California Interreligious Conference)-

www.TakingAim.info