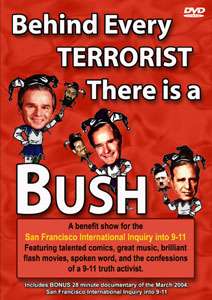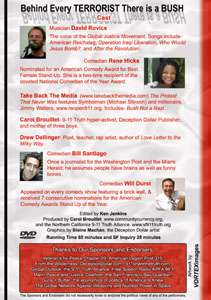 Behind Every Terrorist - There is a Bush was a benefit show for the San Francisco International Inquiry into 9-11. It featured talented comics, great music, brilliant flash movies, spoken word, and the confessions of a 9-11 truth activist.
Cast in order of Appearance-
David Rovics- The voice of the Global Justice Movement." Songs include- American Reichstag, Operation Iraqi Liberation, Who Would Jesus Bomb?, and After the Revolution.
Comedian Rene Hicks- Nominated for an American Comedy Award for Best Female Stand-Up. She is a two-time recipient of the coveted National Comedian of the Year Award.
Take Back The Media is a cooperative project by progressive American citizens. The Protest That Never Was features Symbolman and millionaire, Jimmy Walters, www.reopen911.org. The flash movie- Bush Not a Nazi was also a creation of Symbolman (Michael Stinson).
Carol Brouillet- 9-11 Truth hyperactivist , publisher of the Deception Dollar, and mother of three boys.
Drew Dellinger- Drew is a poet, teacher, rap artist author of Love Letter to the Milky Way.
Bill Santiago- Once a journalist for the Washington Post and the Miami Herald, he assumes that people have brains as well as funny bones.
Will Durst- He has appeared on every comedy show featuring a brick wall, & received 7 consecutive nominations for the American Comedy Awards Stand Up of the Year.
View it online at http://video.google.co.uk/videoplay?docid=-1026437698719449439
Edited by Ken Jenkins. Produced by Carol Brouillet and the Northern California 9-11 Truth Alliance. VHS video available and DVD (DVD includes bonus documentary on the San Francisco International Inquiry into 9-11, March 2004, 28 minutes), Specify video or DVD, send $20 to The Northern California 9-11 Truth Alliance, PO Box 60511, Palo Alto, CA 94306. For large quantities, call Carol Brouillet 650-857-0927.

7:00 pm - The San Francisco International Inquiry into 9-11 (30 minutes)
Followed by Ken Jenkins

An overview of the three day gathering of 9-11 researchers, authors, documentary film makers, activists, Ellen Mariani and her lawyer, Phil Berg that took place in March, 2004.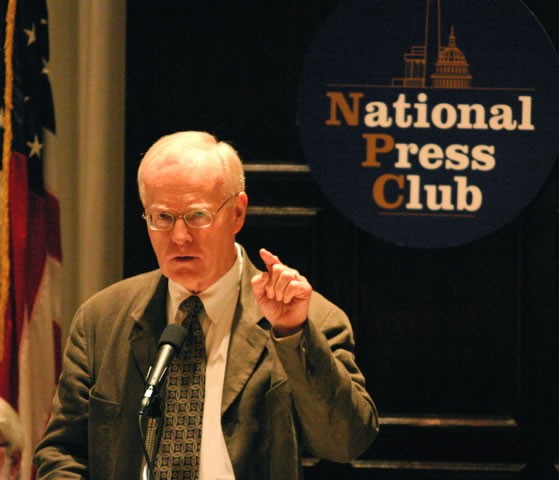 9-11 and the American Empire (60 minutes)
Griffin starts by establishing the American Empire as real and not benign, quoting numerous authors on the left and right. Then, following the reasoning put forth in his highly acclaimed book The New Pearl Harbor and his more recent book The 9/11 Commission Report: Omissions and Distortions, he gives abundant evidence that the 9/11 attacks were orchestrated by the Bush administration, for the purpose of expanding this empire. The talk concludes with suggestions of what we can do about this situation. A question-and-answer period follows.

This talk is aimed particularly at religious people who take seriously the moral principles that their religion has in common with the other religions of the world.

David Ray Griffin, Emeritus Professor of Philosophy of Religion and Theology at the Claremont School of Theology, has published over 25 books and 150 articles. (Here is a link to an LA TIMES article about Griffin which appeared August 28, 2005- entitled Getting Agnostic about 9/11 - A Society of Nonbelievers question the official version.)

Edited and produced by Ken Jenkins.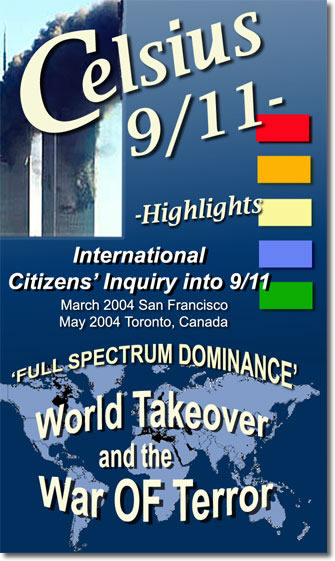 "Celsius 9-11" (120 minutes)
Highlights of the International Citizens' Inquiry into 9/11, March 2004, San Francisco & May 2004 Toronto, Canada. A good, concise overview of the work of some of the top independent 9/11 researchers including Mike Ruppert, Carol Brouillet, Richard Heinberg, Barrie Zwicker, Michel Chossudovsky, Jim Hoffman and others.

Director: Jeremy Wright
Report on September 10th, the 4th Annual 9-11 Truth for Peace and Justice Rally and March in San Francisco

(Click for details of the 2005 Rally and March)
Report on September 11th Films, Discussions, Dialogue, Reflection
on 9-11 Truth for Peace and Justice


click on photo for details
Donate to the Northern California 9-11 Truth Alliance
Return to Questioning the War Against Terrorism