The San Francisco Tea Party for 9/11 for Truth was held in San Francisco Sunday on the 234th anniversary of the Boston Tea Party. Similar events were held in Boston and other cities across the country. Party attendees marched from Pier 39 to the end of the Municipal Pier where a replica of the 9/11 Commission Report was tossed into the bay. Duration: 2:00. File size: 17.1 MB. Camera and Editing: Lea Suzuki, Chronicle Staff
I love the creativity, art, courage that went into all of these events and applaud everyone for their efforts. Unfortunately, I was hospitalized on December 17th, and have only been home for a day since then, so I don't have the strength to write up more, and post all the photos that I have received, but here are a few more from our local 2007 San Francisco Tea Party for Truth:
In solidarity and in spirit with the Boston Tea Party for 9/11 Truth and the courageous American patriots who, on December 16, 1773 said "No!" to lack of representation and tyranny by tossing crates of British tea into Boston harbor, the Northern California 9/11 Truth Alliance enacted a "9/11 Truth Tea Party" on December 16, 2007, with those who cherish the ideals of liberty and justice, to denounce and cast off the tyrannies imposed on the American public and the world imposed by the government immediately after 9/11, and later through compounded lies and coverups within the official 9/11 Commission Report.
For those who were not able to cross the continent to be with our brothers and sisters in Boston, we gathered in San Francisco to voice our own proclamation demanding an immediate, genuinely independent investigation, accountability, and impeachment. We applaud Boston's efforts to re-establish Citizen Grand Juries by which the pre-Revolutionary War colonists legally threw off the yoke of tyranny. We will parade an enlarged replica of the deeply flawed 9/11 Commission Report, the NIST Report, the Patriot Act, The Military Commissions Act, P.D. 51, HR. 1955- The Violent Radicalization and Homegrown Terrorism Prevention Act of 2007, The Project for a New American Century's- Rebuilding America's Defenses: Strategies, Forces, and Resources For a New Century to the waters of San Francisco Bay declaring their lies, falsehoods, attacks upon the Constitution, our Rights a threat to our country and the world.
According to polls, most of the American people believe that the official 9/11 story of George W, King Pretender, is fatally flawed or a deliberate lie. As more and more scholars, physicists, engineers, architects, and high-level government, military and intelligence insiders come forward to contribute to a fuller understanding of the true facts of 9/11 (patriotsquestion911.org), often at great risk to themselves, so we come forward to add our voices to those of Boston and New England 9/11 Truth groups who believe that truth is the moral imperative of our democratic society and an obligation of all public servants. We were joined by 9/11 Truth groups in Milwaukee and other cities who organized their own Tea Parties for 9/11 Truth.
The catastrophic events of 9/11 and the illegal, unilateral wars and unprecedented assaults on our constitutional rights and liberties here at home, justified by the official lie about who perpetrated the 9/11 events, are at the very center of everyday life in America. We therefore will accept no compromise until the full truth of 9/11 reclaims its rightful place at the core of the American psyche. Only a complete and independent 9/11 investigation will yield the answers all Americans deserve. These answers will empower us to confront the Bush Administration's challenges to the freedoms and democracy guaranteed by our Constitution and defended through the sacrifices of those who have come before us and the many who are still dying because of this unconscionable official Lie.
We welcome and invite those who cherish liberty, truth, justice, and peace to join us in our efforts!
Thanks to the many folks who joined us this year, despite the logistical challenges posed by "Security Forces" guarding sidewalks and the public space on Municipal Pier and Aquatic Park who made it almost impossible for us to gather and carry out our plan. We adapted to the situation, gathered, made speeches, marched, tossed the flawed 9/11 Report replica in the Bay and exercised our first amendment rights, as best we could. We were especially honored to have William Veale with thirty plus years of experience as a criminal lawyer, and the creators and producers of Loose Change - Final Cut: Jason Bermas and Dylan Avery, as guest speakers. Additional speakers included our own: Ken Jenkins, Jeremy Begin, Cam, John Wright, Jodie Paulson, David Lombard, Stephen Myers, Bernie Rauch... and people whose names I do not know. Newspaper reporters came and took photos. We had pre- event coverage in the San Francisco Bay Guardian and Fog City Journal. We did take photos and filmed the events ourselves, and will have to be our own media, as usual.
Here are a few photos that didn't make it into the slideshow: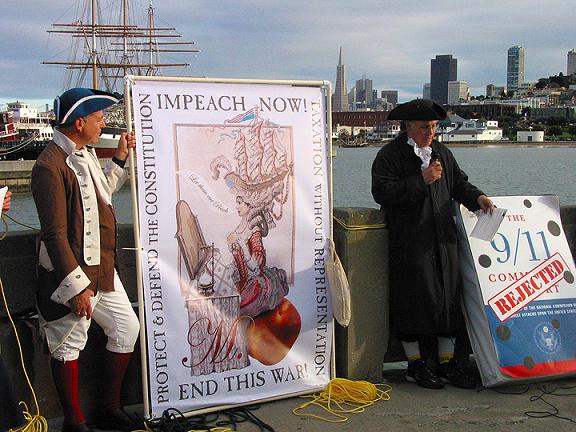 Scott Page and John Wright, Proclamation before the toss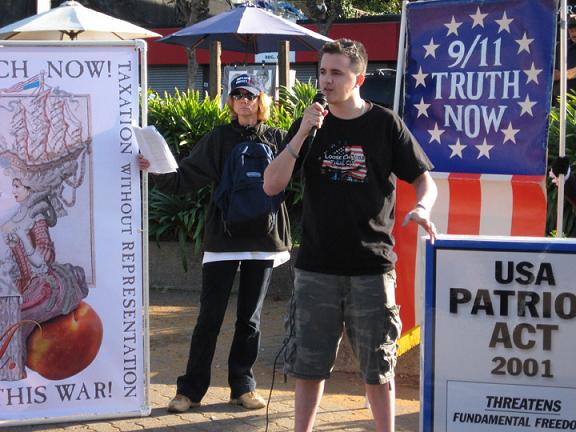 Dylan Avery Speaks about the abominable Patriot Act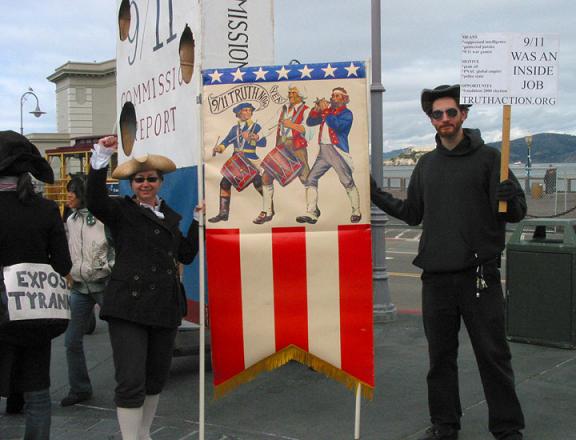 The answer to 1984 is 1776. True patriots- Cam and Jeremy Begin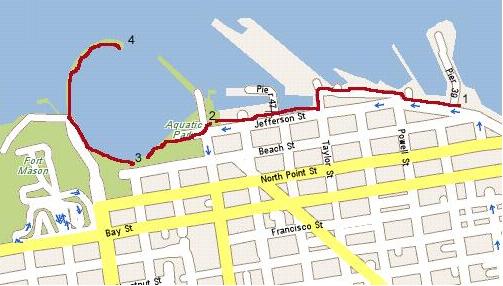 Key-
1) Pier 39
2) Hyde Street Pier
3) Bleachers at Aquatic Park
4) End of Municipal Pier
This year, 2007, the plan was to meet at 12 noon at 1) Pier 39.

At 1 pm march to the 2) Hyde Street Pier to hear statements of redress.

At 3 pm heave the disgraced Reports and legislation into the Bay at Aquatic Park.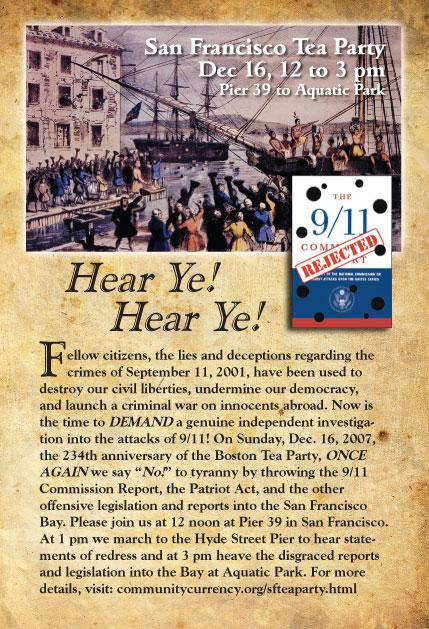 My personal account of my experience at the San Francisco Tea Party is posted on my blog (See the December 17, 2007 entry).
San Francisco Bay TEA PARTY for 9/11 TRUTH
PROCLAMATION 12/16/2007
Fellow citizens, the lies and deceptions of the tyrannical elite within our government regarding the crimes of September 11, 2001 have undermined our democratic processes and our liberties, and have been used to launch wars upon other nations for far too long. The Executive, Judiciary and US Congress are hereby advised that we, the citizenry of these United States, hold an uncompromising DEMAND for a genuine independent investigation of the attacks on 9/11/2001 and full accountability for the crime, cover-up, and abuses of power committed under a veil of deceit.

WHEREAS the events of September 11, 2001 have been used to justify attacks upon our Constitution, the Bill of Rights, and habeas corpus, and launch wars threatening all of humanity--physically, legally, morally, and psychologically; and

WHEREAS the 9/11 Commission ignored the fact that the government lied and falsified scientific data about the quality of the air and water in the wake of 9/11, compounding the disaster, endangering the health of unprotected first responders and citizens, sacrificing them in the interests of re-opening Wall Street, and later fighting the victims in court to deny them health benefits; and

WHEREAS the 9/11 Commission failed to investigate those in the Administration who were members of the Project for the New American Century and wrote "Creating Tomorrow's Dominant Force," which stated the need for the Department of Defense to "move more aggressively to experiment with new technologies and operational concepts," and that "the process of transformation, even if it brings revolutionary change, is likely to be a long one, absent some catastrophic and catalyzing event like a new Pearl Harbor;" and

WHEREAS the 9/11 Commission failed to investigate numerous war games conducted on September 11, 2001 that severely crippled our highly competent aircraft interception capability; and

WHEREAS the 9/11 Commission failed to investigate or even mention the demolition of the 47-story World Trade Center Building 7, which was not struck by a plane, but went down at near freefall speed at 5:20 pm on 9/11; and

WHEREAS the 9/11 Commission failed to mention that fire had never caused steel-frame high-rise buildings to collapse, and that the pulverization of the towers shared the distinctive features of controlled demolitions, and mischaracterized the towers' core structure as a hollow steel shaft, ignoring the 47 massive steel support columns as large as 22 inches by 54 inches; and

WHEREAS the 9/11 Commission failed to investigate and explain how the Pentagon, within the most-guarded airspace on the planet, including its own missile defense system, was penetrated on 9/11/2001; and

WHEREAS the 9/11 Commission decided that who financed 9/11 was of little practical significance, ignoring evidence that top ISI General Mahmoud Ahmad had $100,000 wired to alleged lead pilot Mohammed Atta, and evidence that top Al Qaeda operative Ali Mohammed, who was involved with the 1993 WTC bombings, the African Embassy attacks and 9/11, was employed and protected by the FBI, CIA and the US military; and

WHEREAS the 9/11 Commission failed so utterly in its stated mission to prepare a full and complete account of the circumstances surrounding the September 11, 2001 terrorist attacks that Dr. David Ray Griffin, author of The 9/11 Commission Report: Omissions and Distortions, deemed the Commission's effort a 571-page lie, after chronicling 115 of its errors; and

WHEREAS Congress ignored the failings of the 9/11 Commission and instead passed legislation based on its recommendations, challenging the Constitution, the Bill of Rights, threatening citizens, and protecting those who have abused their power; and

WHEREAS the National Institute of Standards and Technology (NIST) Report on the destruction of the World Trade Center fails to meet basic investigative and scientific standards; and

WHEREAS Congress has struck down fundamental protections such as habeas corpus and the Posse Comitatus Act, which limited the federal government from using the military to enforce the law within the United States, and passed the Uniting and Strengthening America by Providing Appropriate Tools Required to Intercept and Obstruct Terrorism Act of 2001 (USA PATRIOT act), and the Military Commissions Act, and H.R. 1955, the Violent Radicalization and Homegrown Terrorism Prevention Act of 2007, broadening the definition of homegrown terrorism; and

WHEREAS George Bush issued National Security Presidential Directive # 51, allowing the President to seize power and nullify the Constitution, and to continue following the blueprint devised by The Project for the New American Century's "Rebuilding America's Defenses," without any objection from Congress whose duty includes executive oversight and defending the Constitution;

THEREFORE We the people of the United States of America, today, from Boston to California, from sea to shining sea, on the 16th day of December in the year 2007, REJECT the findings in the official 9/11 and NIST Report, the PATRIOT ACT, the Military Commissions Act, the Violent Radicalization and Homegrown Terrorism Prevention Act, and Presidential Directive #51, and DEMAND the release of documents and evidence withheld by the government, and an IMMEDIATE, genuinely independent 9/11 investigation with subpoena powers, independent 9/11 researchers, and oversight by 9/11 families and concerned citizens. We DEMAND that Congress members uphold their oath of office to defend our Constitution, exercise executive oversight, and IMPEACH the President and Vice President before they commit more crimes against our nation and the world through deceptions, lies, and war.

Join us, be not afraid— the day of reckoning and the end of the era of lies, deceit, tyranny, and war is at hand.
May truth, peace, liberty, respect for life, and justice prevail.

Excellent Video of the Boston Tea Party for 9/11 Truth 2006-
and an invitation to Boston's Tea Party and Conference for 9/11 Truth, to be held Saturday and Sunday, December 15 and 16, 2007.
This year's theme, "Scientists and Citizens Speak Out."

Video coverage by KPIX (Local Television cbs5.com) entitled-
San Francisco version of Boston Tea Party, Protest Over 9/11 Report,
posted on their website December 17, 2006.

Thanks to 9/11 Youth for Truth for this clip:


Another video clip of The San Francisco Tea Party (9 minutes 38 seconds).

More photos are posted at 911blogger.com including this one:

Tian, who is in this photo, also took some great photos and a short video of the toss. Check out his webpage by clicking on this photo which he took:

And here are a couple more-

This great photo appeared in the Boston Globe:

Here's the link to the Great Midwest Tea Party for 9/11 Truth:


Organized by Take A Stand For 9/11 Truth.

Return to Questioning the War on Terrorism